Elliott Rae
Speaker, Author,
Social changemaker
I specialise in helping organisations support working fathers, improve men's mental health and engage men in conversations around gender equality
Parenting Out Loud: supporting working fathers for wellbeing and gender equality
The truth about men's mental health and what we can all do to help
What it means to be a man in 2023: allyship, equality & masculinity
Equal Allies: how men and women can better support each other
Empowering parents to navigate online misogyny with their children
Who am I?
Hello and thanks for your interest in working with me. I am looking forward to talking to you and seeing how I can help to support your goals and aspirations. I am hugely passionate about diversity, equality and inclusion and I enjoy using my voice to connect with people, increase understanding of some important issues and inspire behaviour and culture change.
As well as being one of the UK's most prominent speakers on fatherhood, masculinity and men's mental health, I am also the founder of the parenting platform MusicFootballFatherhood, called the 'Mumsnet for Dads' by the BBC. MusicFootballFatherhood is all about open conversations around fatherhood and we work with dads through content and community events to discuss topics such as loss, masculinity and mental health. I founded the platform after being diagnosed with PTSD as a new dad after the traumatic birth of my daughter.
I wrote about my PTSD, and bought other dads together to share their stories, in my new book DAD which is an Amazon Top 10 bestseller. DAD is a deeply moving collection of 20 stories that represent the diversity of modern fatherhood and challenges the traditional ideas of masculinity.
I presented the seminal BBC One documentary 'Becoming Dad' in January 2022 and I am a regular media commentator on issues around fatherhood and mental health, having written for The Independent and The Telegraph and featured live on Loose Women, BBC News, Channel 4 and Radio 5 Live.
My work was recognised by the United Nations and I was awarded the #HeForShe award by UN Women UK for my work in engaging men in conversations around gender equality.
I am also the co-founder of the Working Dads Employer Awards which celebrates employers that are supporting working dads.
I have had a long career in Diversity, Equality and Inclusion and have held senior roles, including as Head of DEI Delivery at HM Treasury.
You can read more about me and my story here.
How can I help you?
Are you aiming to create a workplace culture where dads are proud to 'parent out loud'? Are you looking at doing more to support the mental health of your male colleagues? Are you trying to encourage more open conversations about masculinity and allyship and engage more men in your DEI activities?
I'm guessing the answer is 'yes' to at least one of those questions! I think I can help.
My work is all about presenting new ideas, creating inclusive environments for open conversations and being a catalyst for culture change. I love to challenge internalised beliefs and highlight how we can take action to create change.
I frequently work with people like you; DEI teams, HR leads, staff parenting networks, gender networks, leadership teams and passionate changemakers through workshops, keynotes and programmes.
All my sessions are emotive, raw, interactive and powerful. They are grounded in personal stories while incorporating the latest research, data and best practise.
I love to learn about your organisation's challenges and tailor my work to help you to achieve your objectives. I'm here to support, whether by helping to break down ideas about gendered parenting roles, supporting your colleague's mental health and wellbeing, engaging more men in your DEI and gender equality work, building an inclusive culture with allyship at the core or helping senior leaders to foster more inclusive relationships.
10+
years of culture change and inclusion experience
SOME OF THE ORGANISATIONS I'VE
WORKED WITH
Elliott spoke at an international webinar for our colleagues and clients in July 2022. It was a pleasure working with Elliott. He made himself available for a series of preparation and briefing calls, was always responsive on email, and delivered an absolutely outstanding talk which generated unprecedented engagement and overwhelmingly positive feedback. He makes an impact, while making it interesting and enjoyable. We would thoroughly recommend Elliott to any organisation looking to do more to support the fathers in its workforce.
Elliott's session on men's mental health was a real turning point for the engagement of men on this topic at our firm. We are proud to have been at the forefront of our industry in tackling mental health stigma for many years, but we have always struggled to engage men in the conversation. Elliott broke that impasse with ease, with a rare combination of authenticity, warmth and authority on this subject. We received excellent feedback after the session, and we can't wait to have Elliott back to continue the conversation and drive the mental health agenda at CMS further forward.
In the past 15 years I've worked with so many external speakers however Elliott's ability to capture the audience's attention, his authenticity, enthusiasm, and knowledge on the subject were unique. As the demand to break the stigma around mental health and equal parenting increases, experts like Elliott, who can provide terrific content, will remain in high demand. We wouldn't hesitate to request his participation at future events. Highly recommended!
We booked Elliott to speak at our International Men's Day event which was organised on behalf of our Gender Equality Network, and he did not disappoint. Elliott led a panel session featuring some of our own staff, which explored topics around redefining masculinity, gendered parenting roles and male allyship. He helped to open up conversations which may not ordinarily be talked about in the workplace and got people thinking about the issues and pressures of being a male in today's society.
Elliott Rae is an extremely engaging presenter whose knowledge and understanding of diversity, equity and inclusion facilitated powerful discussions and generated fresh and important insights in relation to parenting and masculinity. Ford of Europe were delighted that he could be a key note speaker during our 2021 DEI Week celebrations.
Elliott is a brilliant speaker, knowledgeable, engaging, articulate and most of all human; able to help everyone into a subject too rarely discussed. Elliott was fantastic to work with and provided a wrap-around package, from initial consultation through to delivering the event itself. The session was interactive and engaging and really allowed our people to have honest and open conversations.
It's been a pleasure working with Elliott as he is very friendly and easy to talk to. He listened to understand what as a business we were aiming to get out of the session. Even in a virtual environment the audience were able to connect with his journey and his inspiration to speak up in a safe environment. Elliott's excellent session has inspired us to continue the conversation in the business and we held an internal follow on session.
Working with Elliott has been a fantastic experience for us. We were convinced that our colleagues would benefit from Elliott's uplifting spirit as well as his first-hand-experiences which he presented in brutal yet very approachable ways. And we weren't wrong: People loved him! Elliott was prompt, quick and always prepared for our planning sessions which made our work very enjoyable and easy. I can only recommend working with him!
Working with Elliott was incredibly straightforward, he was open and engaging during our initial conversations and this carried through into his session. His style of delivery is warm and personable, but with an inherent sense of credibility and just the right amount of challenge. It was fantastic to have such great engagement from the audience. Since the session, we have continued to keep the conversation going in smaller groups and across our networks. We would definitely recommend working with Elliott, he's very talented!
Elliott is an absolute joy to work with as he has an infectious enthusiasm and a genuine dedication to ensure equality for dads on their parenting journey. The event tackled some really tough subjects, such as post-natal depression, yet at the same time it was light-hearted which was down to Elliott being able to quickly develop a warm rapport with the audience.
This interactive session looks at how to support working dads through leadership and culture change
The Culture Change programme: men and masculinity
The aim of the Culture Change Programme is to work in partnership with you to explore how challenging, reshaping and changing attitudes and beliefs towards childcare, masculinity, male vulnerability and allyship can contribute to an inclusive family friendly environment and result in improved wellbeing, mental health, engagement and gender equality.
The programme is perfect for organisations who know they need consistent action to transform culture and engage a large section of their workforce. You may work in construction, engineering, law or any other traditionally male industry with strongly embedded views about how to behave at work for success.
The culture change programme is about doing the deep work. It's about a longer-term commitment to change. The programme includes a discovery phase, measuring and benchmarking, a series of immersive events with staff and leaders, communications, toolkits and digital assets.
Each programme is tailored to meet your needs and my team and I will work closely with you to provide a full wrap-around consultancy service to help you achieve your desired outcomes.
BBC One documentary – Becoming Dad
– watch here
Loose Women – Katie Piper praises Dad who suffered from PTSD after traumatic birth of daughter for raising awareness
– watch here
BBC News – I got PTSD after witnessing my daughter's birth
– read here
The Guardian – Dad's the word : how the pandemic got men talking about fatherhood
The Guardian – The struggle of fatherhood is real – so why are new dads often invisible in NHS advice
– read here
Grazia – All dads really want this this Father's Day is Equal Parental Leave – And to be included in conversations about parenting
– read here
The Telegraph – How childbirth trauma and PTSD led me to start an honest conversation about fatherhood
– watch here
Channel 4 Steph's Packed Lunch – The dads encouraging men to talk about fatherhood –
– watch here
The Independent – This is why The Rock's message about fatherhood is s important to dads like me
– read here
On Wednesday 26th January 2022, the BBC aired Becoming Dad – the first TV documentary of its kind to bring issues around dads' mental health, equal parenting, work-life balance and masculinity to the mainstream.
Becoming Dad is a primetime show that was broadcast on BBC One.
The documentary follows Elliott Rae as he makes his TV presenter debut. The show highlights the experiences and statistics around dads' mental health and shines a light on how we can all play a part to recognise the importance of dads, de-gender parenting, challenge outdated stereotypes and support dads to be involved parents in the home.
Becoming Dad aims to raise awareness around the changing expectations that modern dads face. This emotional, raw and moving documentary invites viewers to follow Elliott as he relives his daughter's traumatic birth with his wife, talks to his own dad about their relationship, and meets with expectant dads to talk about their anxieties and concerns.
Read Elliott's bestselling book DAD.
DAD is a deeply moving and inspiring collection of stories that represent the diversity of modern fatherhood and seeks to start a conversation that challenges the traditions associated with masculinity.
DAD includes 20 powerful and defiant stories about postnatal depression, becoming a new dad during the pandemic, miscarriage, widowhood, stillbirth, co-parenting, childbirth trauma, work-life balance, new dads at work, shared parental leave, being a stay-at-home dad, gay fatherhood and surrogacy, being a stepdad, black fatherhood, raising a child of dual heritage, being a single dad, faith and fatherhood, raising a child with autism, gender stereotypes and more.
DAD is an Amazon Top 10 and a Hive Top 20 bestseller. The book has been key to informing Government and NHS policy around supporting dad's mental health and engaging men through the maternity process.
Music Football Fatherhood
The UK's most exciting parenting and lifestyle platform for men. "The dads' version of Mumsnet." (BBC)
musicfootballfatherhood.com is home to the online community of fathers, and men looking to be fathers in the future, from the UK and beyond. We are a resource and a space where dads can be free to talk, listen and read about things that are important to us; stuff like work-life balance, mental health, raising healthy and well rounded children, money management, relationships and of course music and football. We have content for fathers at all stages of your parenting journey, whether you are an expectant dad, working dad or even a grandad!
The modern father is a new breed. We are way more involved and present than ever before. But every father is different. Whether you are a single parent, father of a blended family, a stay-at-home dad or a father of quadruplets, we are here to inspire, inform and support you on your journey.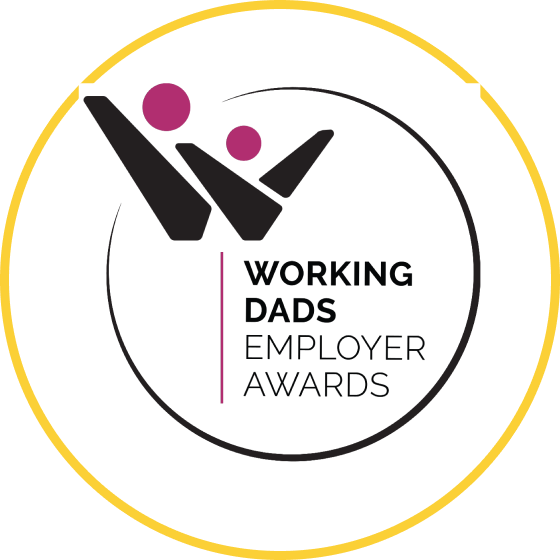 Working Dads Employer Awards
The Working Dads Employer Awards were launched in 2022 by Music Football Fatherhood and the University of Birmingham's Equal Parenting Project. The awards were setup to celebrate and recognise employers that are doing great work to support working dads.
The inaugural launch event was held in Parliament in May 2022 at an amazing ceremony which was attended by some of the key journalists, campaigners and advocates for supporting parents in the workplace. The awards include four categories; flexible working, parental leave policies, supporting returning fathers and leadership and culture. Winners included Aon, John Lewis, Vodafone and Waltham Forest Council.
The awards also encourage employers to think more about what they do in this space and how they can better support fathers in the future to help working families, attract and retain top talent, close the gender pay gap and promote gender equality in the workplace. Partner organisations who have been instrumental in bringing these awards together include CBI, Business in the Community, Working Families, Global Equality Collective, Pregnant and Screwed, Fatherhood Institute and Future Men.
Find out more about the Working Dads Employer Awards here.